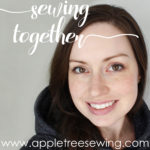 In this episode I share some sewing machine history. Who knew the invention of the sewing machine lead the way for so many new things like the very first patent pool and the first instalment payment plan in the United States? The article references in the podcast can be found here.
I also mentioned Abby Glassenberg's newsletter. You can find her website here.
Next week I'll be finishing this episode by sharing with you my 15 mistakes I have made so you don't have to.
Join in on the sewing conversation by joining our Facebook group or participate on Instagram.
Music Attribution:
TITLE: Back In Summer
ARTIST: NICOLAI HEIDLAS
Heidlas, N. (2016). Back in summer [Recorded by N. Heidlas]. Retrieved from: https://soundcloud.com/nicolai-heidlas/95-bpm-back-in-summer-upbeat-ukulele-background-music
MUSIC LICENSE: CREATIVE COMMONS 3.0 ("Attribution" – license)
​