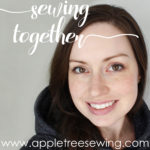 In this episode I share 15 common sewing mistakes I have made, that I really try not to make anymore.
The sewing pattern reviews/tips website (The Fold Line) I shared in the episode can be found here. I love that you can search for a specific style, or narrow it down to what will look good on your body.
I have create a printable document that lists the 15 mistakes I discuss in this podcast, so you can print it off and have a quick reminder of what to avoid. You can find that document here.
Join in on the sewing conversation by joining our Facebook group or participate on Instagram.
Music Attribution:
TITLE: Back In Summer
ARTIST: NICOLAI HEIDLAS
Heidlas, N. (2016). Back in summer [Recorded by N. Heidlas]. Retrieved from: https://soundcloud.com/nicolai-heidlas/95-bpm-back-in-summer-upbeat-ukulele-background-music
MUSIC LICENSE: CREATIVE COMMONS 3.0 ("Attribution" – license)
​