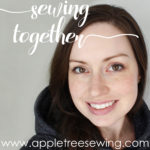 In this episode I share a few ideas on how to get your sewjo (or sewing motivation) back!
In this episode I talk a bit about dresses. I mention a fun little book I've been enjoying. It's this book, but I purchased mine from Indigo here in Canada. Here is my Instragram post with the dress I made from the bustier pattern.
The other dress I made can be seen here. Check out our Facebook group for more info on that.
I also mentioned the Lengends Dress from Sew Straight and Gather as well as the Zadie from Tilly & The Buttons.
Here's the link to my PDF Pattern shop that I mention 🙂 http://etsy.com/shop/appletreepatternco
The 5 possible reasons why you might have lost your sewing motivation are:
1. You need to be inspired- I discuss how you can use social media to jumpstart your inspiration.
2. You are sewing for your business- I share some changes I made to my sewing business to make it more fun for me to sew.
3. You are bored of sewing- I give you a few new things you might like to learn to do that are sewing related.
4. You don't have time to sew- I tell you a bit about what I do to manage my sewing time in a more effective way.
5. You are working on a big project- I share my advice, but later in the episode we get some listener advice on how to get motivated to work on those big projects.
I have one additional tip I recommend if you have lost your sewjo and that is to try making something useful.
We also hear advice from 3 of our friends on social media: Ieva from @everyspecialday on instagram, @girlandboyd on Instagram,  and @bjoys4 on instagram.
At the end of this episode I share a bit about how sometimes it is okay to lose your sewjo and not try to get it back.
What do you do to get your sewjo back? Share in the comments below!
Music Attribution:
TITLE: Back In Summer
ARTIST: NICOLAI HEIDLAS
Heidlas, N. (2016). Back in summer [Recorded by N. Heidlas]. Retrieved from: https://soundcloud.com/nicolai-heidlas/95-bpm-back-in-summer-upbeat-ukulele-background-music
MUSIC LICENSE: CREATIVE COMMONS 3.0 ("Attribution" – license)