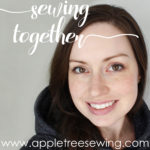 In this episode I share a bit of podcast history, describe how I make my podcast and share my favourite sewing podcasts with you. This episode was inspired by a Facebook conversation with Shelbie from Cedars Closet

. She said she had finished listening to all of the episodes of my podcast and wanted some more recommendations. I gave her my list but I wanted to explain why I liked them too so I decided to do a podcast episode about podcasts.
Alright here is my roundup of the 10 best sewing (and related) podcasts (my 7 favourites plus 3 extras):
NOTE: These are not in order of best to worst… I love them all
Author/Host: Rachel (from Canada!)
Podcast description from iTunes:  "A Creative Lifestyle Podcast. We talk about small business, blogging, and sewing pretty things. Listening to the Maker Style podcast is like sitting down for a coffee and chat with your girlfriends who are just as passionate about creating things as you are."
Why I like it: She has a wide variety of sewing related guests on her show and asks great questions. She has a great way of getting her guests to be real about their struggles but in an inspiring way.
Favourite Episode(s):
Episode 24 where she had Michelle from Style Maker Fabrics discuss some spring fabric trends. I really liked this episode because it was so different from what a normal interview podcast episode is. It was real tips about spring fashion that is relevant to a sewist.
Episode 9 where Helen from Helen's Closet shares her journey of how she became a PDF pattern designer.
In Episode 21 Rachel has Stephanie from Modern Sewciety on. 
Author/Host: Stephanie
Podcast description from iTunes: "Modern Sewciety features modern creative bloggers in many different industries such as sewing, crafting. I will chat with each guest about what really led them to blogging, why they blog, what inspires them, what blogging has brought them, for example book deals, designing fabric and patterns, working with other companies. We will also talk about their passions that fuel their blogs like sewing, crafting, cooking, home improvement, and parenting. It is a chance to get to know them a little more than what we read on their blogs and just have a great time chatting. If you would like to suggest a modern creative blogger you would like to see interviewed on the podcast just email me at themodernsewciety (at) gmail (dot) com. Enjoy!"
Why I like it: She has a super cute accent! But that's not all 😉 She has some really interesting guests, but I like that she is a quilter who also makes clothes. I like that she still has things to learn about garment making (like me!) and doesn't pretend to know everything. She keeps it real.
Favourite Episode(s):
Episode 112  with Kate from The Fold Line. I loved hearing about how The Fold Line got started and the backstory of it's creators. This was also the first time I had heard of The Fold Line and now I am obsessed with it. It is such a fun website if you are into indie sewing patterns.
Note: Rachel (Maker Style) also has an episode with Kate from The Fold Line, but since I listened to Maker Style in Reverse order, I heard Stephanie's interview first.
Episode 95 with Meg Healy from www.burdastyle.com because we get to learn a bit about someone who is employed in the sewing industry got there.
In episode 108  she interviews Abby Glassenberg of the While She Naps podcast
Author/Host: Abby Glassenberg
Podcast description from iTunes: "A recommendation show for creatives."
Why I like it: She has some very interesting guests who are in the creative industry. She clearly spends a lot of time researching her guests before the interview so her questions are really thought out and lead to an interesting story in every episode. I also like that it's not specifically sewing focused each week so this podcast helps to expose me to some things outside of my bubble.
Favourite Episode(s):
Episode 87 was the community episode where she asked her blog readers to share their favourite things and she played their recordings. It was really fn to hear such a wide variety of recommendations from a variety of different people.
In episode 57 she interviews the heads of Etsy and asks some tough questions.
In episode 14 Abby interviewed Tara Swiger of the Explore Your Enthusiasm Podcast.
Author/Host: Tara Swiger 
Podcast description from iTunes:  "Let's explore what it takes to craft a sustainable, profitable, FUN business, while staying enthusiastic and motivated. Whether you just opened your first Etsy shop, or you've been selling your art, design or writing full-time for years – you struggle with doubt, loneliness, motivation and getting it all done. In this podcast we'll explore what you REALLY want from your small business so that you can follow your enthusiasm, make your art and make money. Each episode is a mini-lesson in exploring what you want out of your OWN business, so that you can craft a life and business that fills your life with enthusiasm. Find more lessons at http://taraswiger.com."
Why I like it: First: it isn't an interview style podcast. Don't get me wrong I love those, but I already listen to a lot of those. Second: she shares some great advice for people who have a creative business, but best of all she is super real. She is honest about the struggles and is really encouraging in the most truthful way. She isn't about sugar coating things, but isn't mean or harsh at all either. She just asks great questions that get you really thinking about where you want your business to go and what you need to do to get there.
Favourite Episode(s):
Her episodes aren't numbered on iTunes but I really like "You are Enough"  and her episodes where she talks about income reports. Her most recent one is really interesting. 
Author/Host: Danielle Spurge
Podcast description from iTunes: "The Merriweather Council podcast, hosted by Danielle Spurge, is all about celebrating the reality of gainful self employment through craft. This is a podcast for art and design entrepreneurs – makers, etsy sellers and shopify users! Featuring tips, insights, advice and tough love for handmade business owners in concise format. Focused on sharing realistic ideas and personal experiences with the nuances of handmade business in mind. If you are working to turn your crafty tendencies into profits, tune in every Tuesday and Thursday."
Why I like it: This is another creative business advice podcast, but she focusses a lot on etsy, which I sell on so I like that. She has a fun accent, and sounds so nice and sweet. She has some really great business advice that encourages you when you might be doubting yourself (which is something I struggle with)
Favourite Episode(s):
Episode 17 She discusses why your market is not too saturated. This is something I think a lot of people worry about and her advice is so good. She has a great analogy that she shares and it can really help to change your perspective. 
Her episodes are so short and fun though they are all great! Just go binge listen to them now 😉
Author/Host(s): Zede and Mallory Donohue
Podcast description from iTunes: "Learn the technical information you need to sew successfully from the fun ladies over at SewHere.com Zede and Mallory are a mother/daughter team who run Zedes Sewing Studio in Columbia, MO. They sell sewing machines, teach sewing classes and provide excellent sewing entertainment online and in-store!"
Why I like it: The dynamic between this mother and daughter host is so fun to listen to. Zede is the mom and she has been sewing for many many years so she has lots of wisdom to share. Mallory grew up with her mom (Zede) sewing, so she knows a lot too. They share practical sewing advice and tips as well as sewing related stories. There is a lot to learn from this podcast.
Favourite Episode(s):
They have this garment sewing skills series they did with 5 episodes that share lots of great advice for garment sewing. I also really liked listening to the one where Zede tells us her real name and the story behind it. It's not the sewing information I love so much as the personal stories and getting to feel like I know these lovely ladies a little bit.
Author/Host: Vicky
Podcast description from iTunes: "The podcast for sewing lovers everywhere. The Sewing Room podcast takes an insider look at an indie PDF sewing pattern company – Bishy Barnababes – from the latest pattern releases to design processes and pattern testing. There are sewing tips and tricks for all types of sewing and discussion about the must have sewing tools and accessories. Plus pattern reviews and more as we find out about what's being made in the sewing room!"
Why I like it: Vicky is so sweet. She lives in the UK so she has such a cute accent. I am normally really bad at understanding people with accents but Vicky is very easy to listen to. She shares a lot of her own personal sewing stories and about her favourite patterns and tools so this podcast has so much practical information. I also love it because Vicky is a PDF Pattern designer and so am I!
Favourite Episode(s):
In episode 12  she talks about scrundies and making undies for her daughter (but calls them pants, because she's British). I think I liked this episode so much because it's a popular US PDF pattern so made me feel a bit closer to her. 
I also like episode 3 where she shares about her sew along . She does daily updates throughout the episode so it spans several days in one episode and I really like that. It was kind of like an audio diary.
3 More Podcast Recommendations:
Seamwork Radio
You can find the iTunes link here: https://itunes.apple.com/ca/podcast/seamwork-radio/id1041068895?mt=2
Or their website here: https://www.seamwork.com/radio
Thread Cult
You can find the iTunes link here: https://itunes.apple.com/ca/podcast/thread-cult/id590069730?mt=2
Or their website here: https://threadcult.com/
Elise Gets Crafty
You can find the iTunes link here: https://itunes.apple.com/ca/podcast/elise-gets-crafty/id818930816?mt=2
Or their website here:  http://www.elisejoy.com/podcast/
Non-sewing podcasts mentioned:
Author/Host(s): Anna Faris and Sim Sarna
Podcast description from iTunes: "Not-great-relationship advice from completely unqualified Hollywood types. I am a solid 3.4 student with a major in English from the University of Washington. I've also been asked what my SAT score was and it was 1060. It only took five years of dorm/rave life for me to accrue the life knowledge I have received. I'm a Sagittarius, which means I'm super creative and stubborn; but there are walls I need to break down because I always want to leap over the boundaries that make me climb ladders and roofs. I'm agreeable and delightful. I also have incredible leadership skills and following abilities. And, I have 20/20 vision so I'm an eagle eye. I could not love all of you more and please e-mail me at questions@annafarisisunqualified.com with your pressing relationship questions.
Why I like it: It is really funny, but I just love how Anna gets her celebrity guests to open up and show a bit more of themselves than they normally do. I am one of those people who is strangely fascinated by the fact that celebrities are actually just normal people and this podcast really shows that. They also offer real life people (callers) relationship advice and I think it's super interesting to listen to.
Favourite Episode(s):
Episode 86 with Lauren Graham, because I love Gilmore Girls so I just loved listening to Lauren. 
Episode 5 with Aubrey Plaza is really good too because one of the callers at the end of the show is a set up and it is so fun! 
Also Mentioned:
S-Town
You can find the iTunes link here: https://itunes.apple.com/us/podcast/s-town/id1212558767?mt=2
Or their website here: https://stownpodcast.org/
That's all. Those recommendations should keep you busy for a while! If you have found your way to this webpage from some other source than my own podcast, make sure you check it out. It's called Sewing Together and you can find it on iTunes, Google Play or Stitcher. Hope you enjoy!
Other things mentioned in the podcast:
History of podcasting:
Here's the infographic from Copy Blogger: http://www.copyblogger.com/growth-of-podcasting/

Like this infographic? Get content marketing advice that works from Copyblogger.
In this episode I also mentioned some drama that occurred surrounding last year's people's choice podcast award winners. You can read more about that here: http://podcasternews.com/2016/06/28/amid-controversy-podcast-awards-winners-named/
This is the mic and pop filter I use to record my podcast.
https://www.amazon.ca/dp/B014PYGTUQ/ref=twister_B01845DBFI?_encoding=UTF8&psc=1 (The white is cheaper right now)
https://www.amazon.ca/gp/product/B008AOH1O6/ref=oh_aui_search_detailpage?ie=UTF8&psc=1
I mentioned that one of the ways podcasters make money is through affiliate links (which those above are not… I don't know how to do that yet, hah), or through sponsors (which I don't think I have enough listeners to entice sponsors) or by mentioning things they sell (which I DO have and you can find those here).
What are your favourite podcasts to listen to? Please share in the comments below, or find me on Instagram or Facebook @appletreesewing and let me know.
Music Attribution:
TITLE: Back In Summer
ARTIST: NICOLAI HEIDLAS
Heidlas, N. (2016). Back in summer [Recorded by N. Heidlas]. Retrieved from: https://soundcloud.com/nicolai-heidlas/95-bpm-back-in-summer-upbeat-ukulele-background-music
MUSIC LICENSE: CREATIVE COMMONS 3.0 ("Attribution" – license)