Want to add a cute little patch pocket to the newest Apple Tree Pattern? It's super easy. Check out the steps below:
What you need:
Your Front Romper piece
Wonder Tape
A piece of fabric for your pocket (I like to use knit so it doesn't fray). You can decide what size pocket you want but make sure you add a seam allowance around all the sides and some extra room at the top to fold over the edge. Here's the sizes I like:
3 – 12 m cut 2 3/4″ wide and 3 3/8″ high
1 – 3 years cut 3″ wide and 3 3/4″ high
3 – 6 years cut 3 1/4″ wide and 4 1/8″ high
Step 1: Place the fabric wrong side up and fold the top edge of the pocket down 3/8″, so the wrong sides of the fabric are together. Press the fold.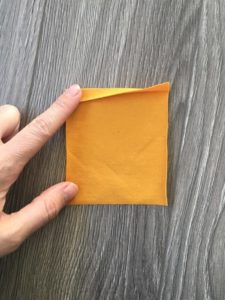 Step 2: Flip the pocket so the right side is face up and from the folded edge, fold the pocket down 3/8″ so right sides are together and you've created a sort of accordion style fold (double fold). Press the fold.
Step 3: Stitch the edged of the fold down, 3/8″ from the ends as shown in the photo below.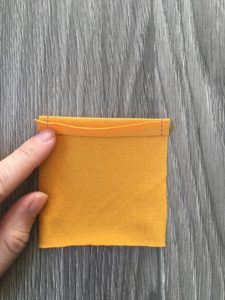 Step 4: Trim the corners of the pocket, where you have just sewn.
Step 5: Slide your finger into the little lip/pocket edge you've created and flip the folded edge of the pocket around to the wrong side of the fabric. Press the top of the pocket.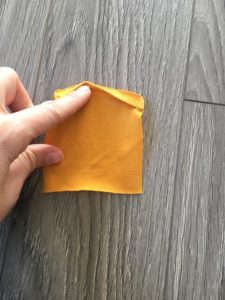 Step 6: Flip the pocket around so the wrong side is face up and fold the sides in 3/8″. Press the folded edges.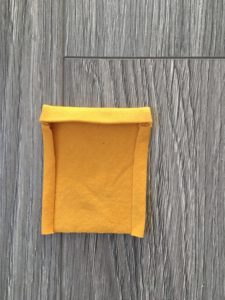 Step 7: Fold the corners up towards the centre of the pocket, within the seam allowance.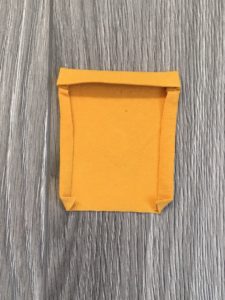 Step 8: Fold the bottom of the pocket up 3/8″. Press in place. You may want to use a bit of wonder tape here to hold the edges in place.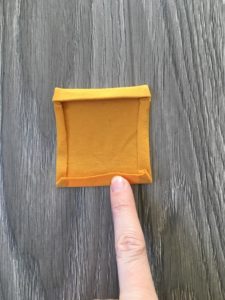 Step 9: Place 3 pieces of wonder tape within the seam allowance of the pocket as should below.
Step 10: Peel the backing off of the Wonder Tape and place on your Front Romper Piece. You want to try place it off to one side (ie. to the left or right of the fold line) and higher than the bottom of the armscye. I like to pace mine about half way up the armscye.
Step 11: Stitch down one side, across the bottom and up the the other side of the pocket.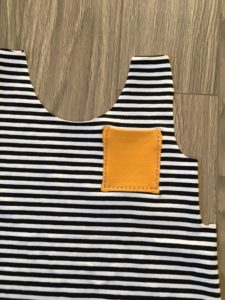 Then simply assemble the romper as per the instructions in your purchased PDF 🙂